Hey there, we are Julie & Tash Lewin, mother daughter duo
We guide you to self-publish your own oracle card deck
so you can confidently bring your soul work + message to the masses.
Do you have an idea for an Oracle Card deck burning inside of you, that won't let you rest until it's out in the world?
Is Spirit calling you to step up, to impact more lives and uplevel the collective consciousness?
Then it's time to finally say YES to that voice that has been telling you that your meant to do great things, to make a difference, and be seen in all your glory.
But, I hear you say, I have this voice inside that whispers to me constantly:
who wants to hear from you?
why would anyone buy your cards, when there are so many available already?
who are you to be extraordinary, that's for others who know more and have done more!
Well, we're calling BS on that voice and it's stories.
We are all meant to make a difference, whether that is to 1000s of people or in our own backyard.

You don't get to decide how you are called, but you can decide when to step up and get to work.
And with everything that is happening in the world, that time is NOW.
We have work to do!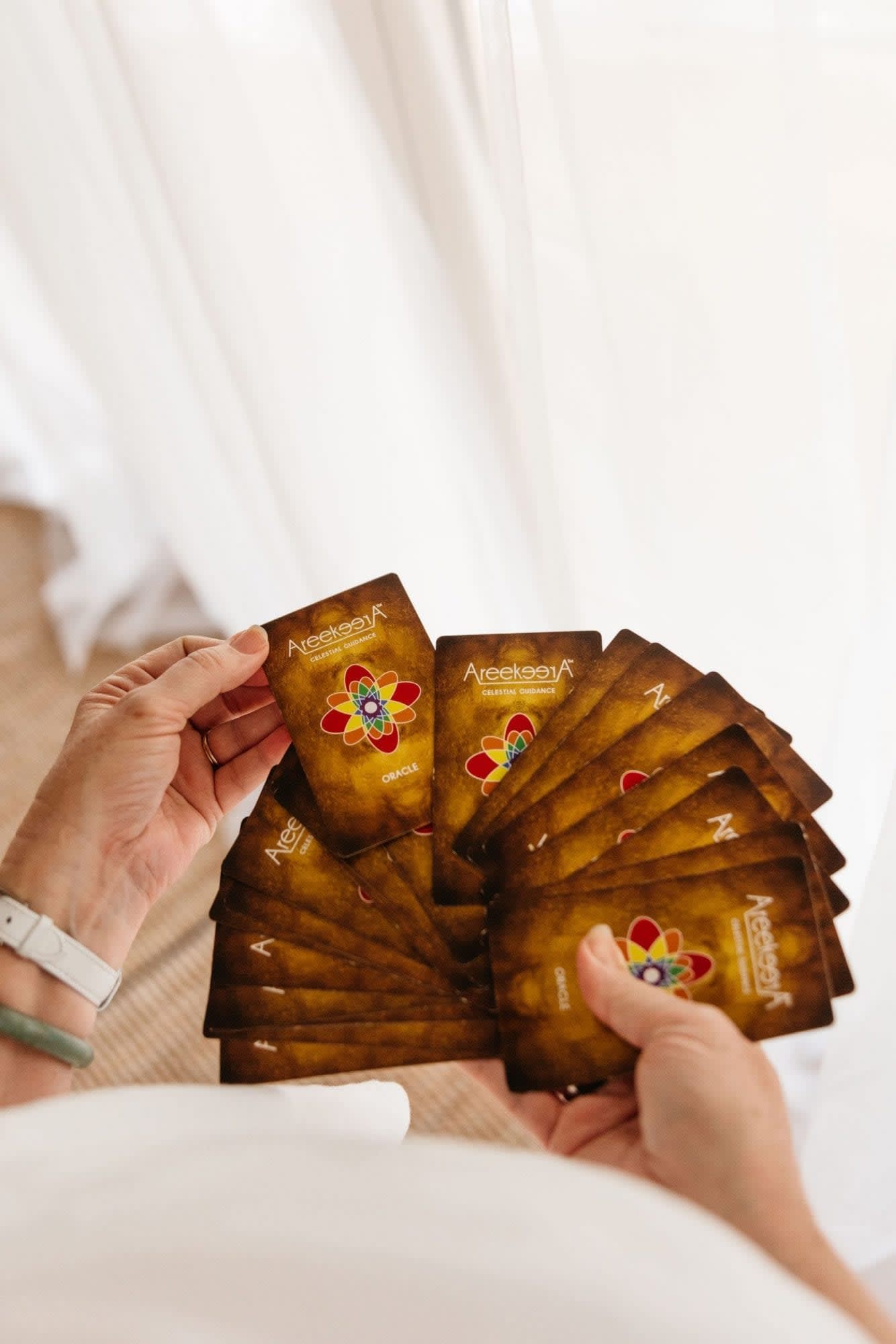 Imagine if you could finally

Share your wisdom and message around the world without fear or doubt.

Have a beautiful physical product that easily attracts new customers.

Be seen as a trusted go-to authority in your field, building know, like & trust.
What do we mean when we say "Oracle Cards"?
When we use the term "Oracle Cards", we are referring to any of the following specific sub-genre cards:
Inspiration cards, Affirmation cards, Wisdom cards, Angel cards, Divine Guidance cards, Divination cards, Meditation cards, Goddess cards, Animal Totem cards, Activity cards, Learning Assistance cards, Education cards, and many more.
You're not limited to the one type you use or have heard about, we can help you identify which cards are perfect for you and your business.
Does this sound like you?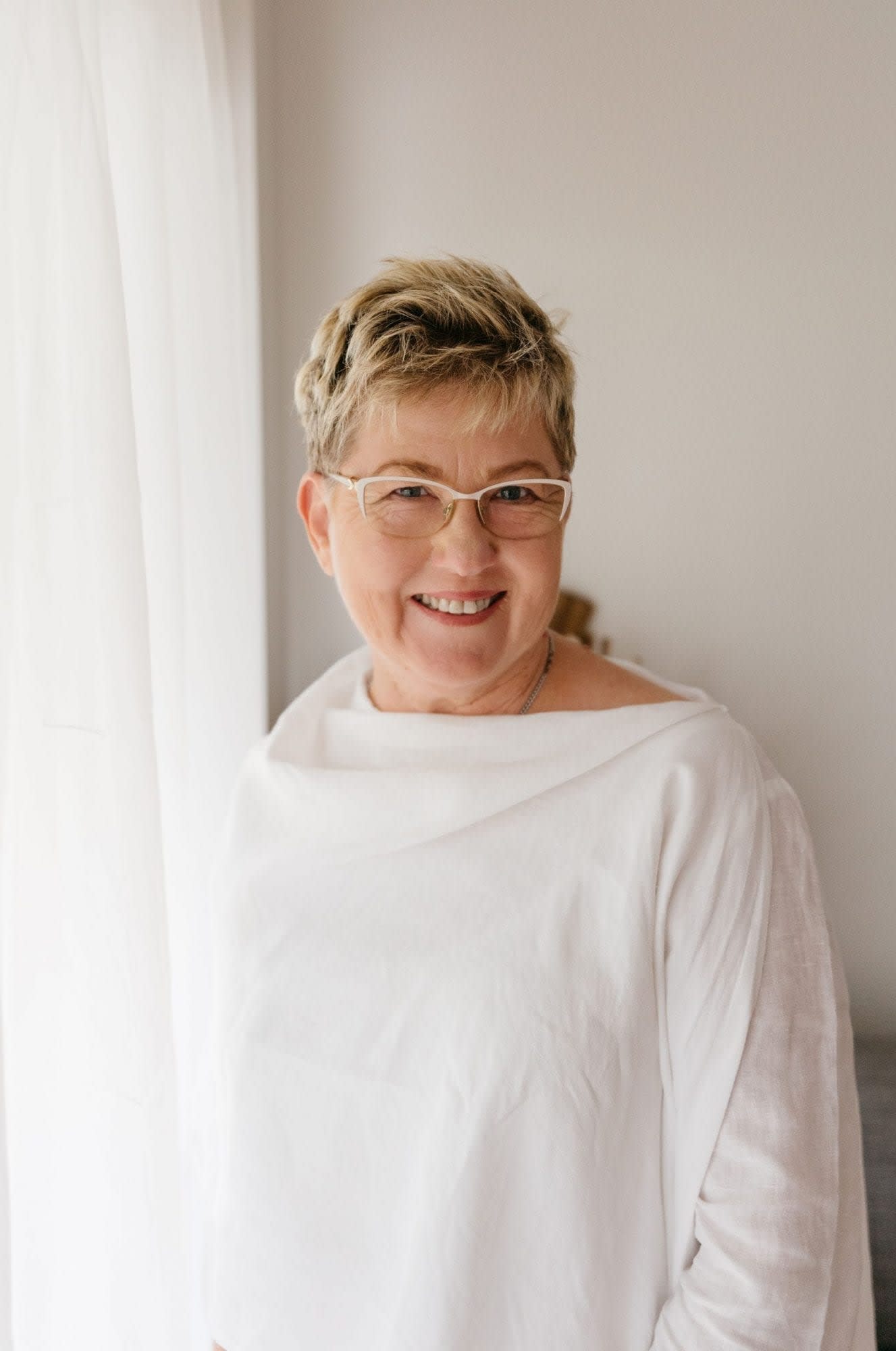 You are a Coach, Healer, Counsellor, Therapist, Educator and/or Spiritual Entrepreneur sharing your wisdom and gifts with your clients.

You have dreams of creating your very own unique deck of Oracle, Affirmation, Wisdom, Inspiration or Education cards (with or without a booklet).

You have wisdom/experience in your area of interest that you share with your market; this may be in the form of a book, program, online course, social media posts, blog, podcast etc. You may use existing knowledge or channel new wisdom.

You're unsure how to get started creating your deck and you want someone to walk you through the steps of self-publishing your own oracle card deck.

You are ready to dedicate time and attention to completing your inspirational product.
Then, you're in the right place.
Almost every week we get approached by someone needing guidance to create their own deck. So, we have put all of our wisdom into this program to support you through the process.

Not only will we show you the practical steps of creating your deck, we will also support you through the emotional ups and downs of birthing a product. 
Birthing a product is like birthing a baby, there will be time to push and time to breathe and we help you know which stage of the process you are in. We are the midwives to your soul work, helping you birth your wisdom into the world.
We will work through all the questions you have about whether anyone is going to buy or use them. 
We will support you when you meet a stumbling block and what to do to find the solution and the satisfaction of ending up with a finished product that people did buy and loved.
When doubts creep in, and you feel like giving up.
There is no one like you, and no one sees things like you do.
So it doesn't matter how many card decks there are in the world, your unique wisdom and insights will always be needed.
co-creating your own Oracle Card Deck
+ It provides your clients the opportunity to connect with their own intuition and develop self-sufficiency skills. This will ensure your high level work gets the big results that you and your clients are really after. As a low price point product, an oracle card deck can be an entry point for future high paying clients, who may not yet be ready to work with you.
+ It easily builds a know, like and trust factor with your community, as they get to see you, how you work and how they will benefit from your wisdom.
+ As a published author, you will be elevated in the eyes of the world and seen as an authority in your field, making publicity opportunities easier to arrange.
+ You can use your cards to run workshops, circles, retreats, classes, online programs and memberships, based on the content of your oracle deck.
+ Providing free readings with your own cards will provide opportunities for  greater connection and conversation with your community.
INTRODUCING
Oracle Deck Co-Creator:
Taking you from Idea to Self-Published Oracle Card Deck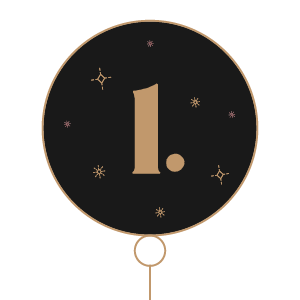 MODULE 1: BRAINSTORM IDEAS
LESSON 1: Connect to your Muse
LESSON 2: Brainstorm Ideas
LESSON 3: Refine ideas & pick a Deck theme
LESSON 4: Outline card categories & card titles
LESSON 5: Choose Printing Options
MODULE 2: SOURCE ARTWORK
LESSON 1: Create a mood board
LESSON 2: Choose art style
LESSON 3: Write card descriptions
LESSON 4: Hire  an artist
MODULE 3: TEST PROTOTYPE
LESSON 1: Print Prototype
LESSON 2: Test the Market
LESSON 3: Channel Guide Book (if required)
LESSON 4: Work with an Editor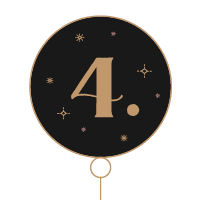 MODULE 4: MANUFACTURE & RELEASE
LESSON 1: Source manufacturer (China or local)
LESSON 2: Choose packaging options
LESSON 3: Choose delivery options
LESSON 4: Prepare files for print
LESSON 5: Embed vibration into cards
LESSON 6: Bless & Release Ritual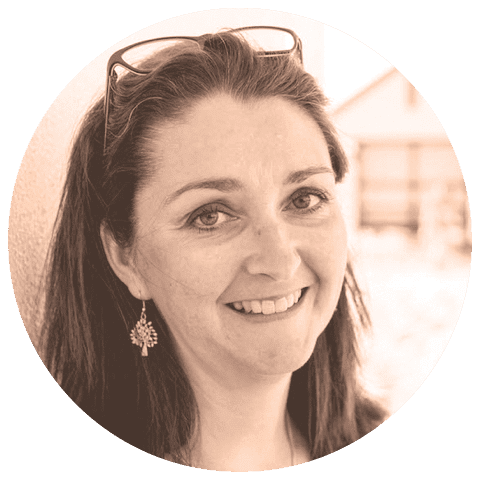 " I came up with the idea to create a Parenting Oracle Deck over ten years ago when my kids were little. I shelved the idea as they grew and I was "too busy". In 2019 a sequence of events drew me into completing the deck and writing the guidebook. I had watched Julie as she created her deck and wanted to do something similar. Julie offered to mentor me, and honestly I could not have done it without her. There were SO many questions she answered for me, and details I would never have thought of. She also encouraged me and supported me through the mindset wobbles.
Then as I got closer to completion, I needed help with finalising the Graphic Design – and this is where Tash came in with her genius. She did the design for the box, the guidebook cover and did all the typesetting for the book too. She patiently worked with me until I was 100% happy. Tash and Julie make the most amazing team. Since publishing my deck, I feel transformed. My business is shifting in ways I could never have imagined, and I am so grateful to Julie & Tash for all their help. If you know you have a card deck inside you waiting to be birthed, I highly recommend you complete The Oracle Creator and put it out to the world! "
you'll receive these Fast Start Bonuses:

LIVE MASTERCLASS: How to use Kickstarter to pre-sell your card decks
We'll show you how to use a Kickstarter campaign to pre-sell your cards, so you are
1. Validating your idea by getting paid
2. Avoiding sinking all of your own money into the manufacturing, so you can use it to market your cards instead
3. Using the funds to pay for your manufacturing expenses i.e. artist, designer, editor, advertising, etc
4. Making back the money you pay for this course through your fundraising

LIVE MASTERCLASS: How to use your cards to increase exposure & engagement
We'll explore ways the cards themselves can be used to increase your:
1. Exposure in the marketplace
2. Connection with your audience
3. Get interviewed in the press
4. Become a speaker at events
5. Turn your cards into additional products/services

Access to our Rolodex of professional contacts:
Artists, graphic designers, copy editors, printers, IP/Contract Lawyers

Introduction and direct access to our Printer in China.
So, how does…
 it all work?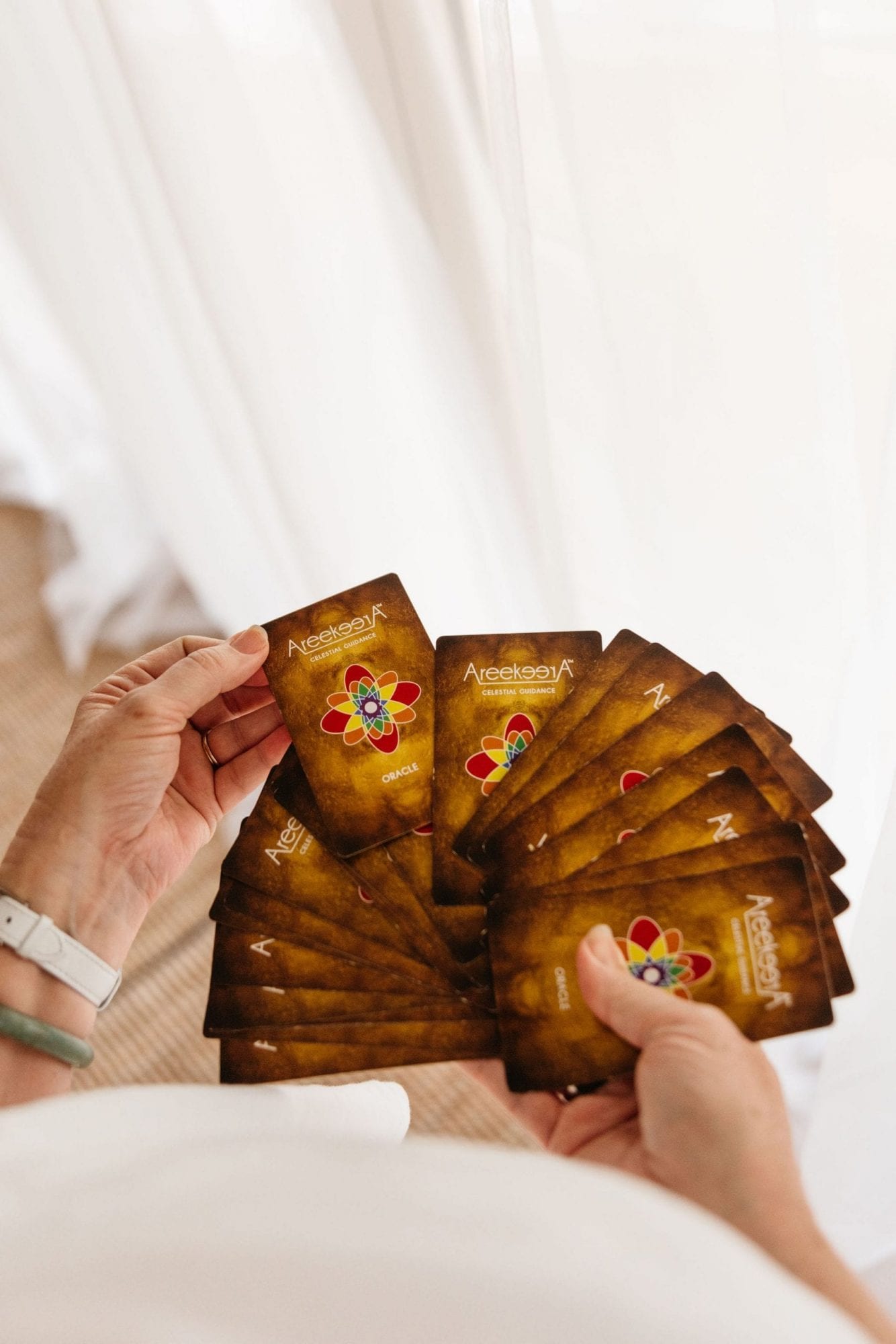 IF YOU CHOOSE THE SELF-STUDY OPTION:
You will follow along with the videos & worksheets to create your cards. There will be no assistance provided as part of the purchase. 
However, if you find you need help at any point, you can purchase a 1:1 Coaching Session with us. We can unpack your ideas, provide advice & guidance or point you in the right direction if you are stuck. You will set an intention for this session and we will work towards that.
You will be taken through an iterative process to create your Oracle Card deck, which may not happen as you expect. We highly encourage you to follow this process, even if you think you have nailed your idea already. This process will allow you to co-create with your Card Deck Muse, to birth a card deck that the world is waiting for. This will be an unfolding and you will be asked to trust in the co-creation process. You will experience highs and lows and it will transform you in ways you couldn't imagine.
You will have unlimited access to the course content and the Facebook Community; if you don't finish your deck in the 8 weeks, you can still connect with the community for advice. This doesn't include 1:1 sessions with us, however, these can be purchased separately if required.
Content will be available in the online portal, with a combination of:
Pre-recorded videos + transcripts

Live Q&A – weekly (this will be done in the FB group. The replay video will be uploaded to the Portal afterwards).

Printables/downloadables – including, templates, worksheets, cheatsheets, calculators 

Meditations for clearing blocks and connecting with your muse; these will be live meditations in the FB group, and pre-recorded meditations available on Insight Timer.
As soon as you enrol, you will be given access to our Private Facebook Group; You will be able to start connecting with fellow students straight away. Get inspired, stay motivated and share your journey. NB you don't have to share your idea to connect.
IF YOU CHOOSE THE CO-CREATION OPTION:
We will work with you to co-create your cards. You will have access to everything in the Self-Study package + 1:1 time with Tash & Julie. 
+ 3x 90 minute 1:1 Co-Creating Calls
We bring our knowledge & wisdom to the table and we help you co-create your cards. These can be booked via our Acuity Scheduling page. This will be made available once the course has commenced.
+ 1x Private AreekeerA® Clear the Runway™ Session
We dig in and uncover what's at the core of any fears, beliefs, wounds or traumas that may be preventing you from sharing your wisdom.
+ Access to us via FB Messenger
What this course DOESN'T do:
TEACH YOU HOW TO CREATE YOUR OWN ARTWORK; if you aren't already an artist, we highly encourage you to work with one who is an expert at what they do. You will love what they come up with, and it will be unique. Without you needing to pour your blood, sweat and tears into it. If however, you want to challenge yourself to create your own artwork, in the course we will share a number of art courses and free Youtube series that teach a range of different art styles.
TEACH YOU HOW TO GROW YOUR LIST; to succeed in selling any product/service, having a list is essential. If you don't already have a list, then we recommend doing list building activities at the same time as creating your cards, so that you can nurture them throughout the development process. If you would like a course that teaches this, then we recommend:
TEACH YOU HOW TO TYPESET YOUR GUIDEBOOK or DO THE TYPESETTING FOR YOU; we will always recommend working with a professional when it is the easiest method for you, that maximises your time and your money.
Your time is worth more than it will cost to get someone to do it right the first time. There will always be more elements to getting this part right than you will realise, and if you spend your time trying to learn a new piece of software, then you aren't spending time marketing or connecting with your potential customers.
It may seem like it is going to cost more to pay someone, but in the long run it will cost you more to do it yourself.
We will provide a Roladex of graphic designers in a range of styles and price ranges, who you can contact to do this work.
WE DON'T PRINT YOUR CARDS: This course teaches you how to print and self-publish your cards, but we don't actually print them for you. You will get access to our Printer in China, and we will provide an example budget to show how much it could all cost. However, there will be variables that will be unique to you and your project. You may choose to work with a local printer, this will be more expensive but is definitely an option. We will provide a Cheatsheet of questions you will need to ask, and information you will need to provide them.
If you would like us to act as Publisher for you, and take care of the printing, that can be negotiated on a case by case basis. Please email us support@theoraclecreator.com to discuss this option.
Your Facilitators 
Mother-Daughter Duo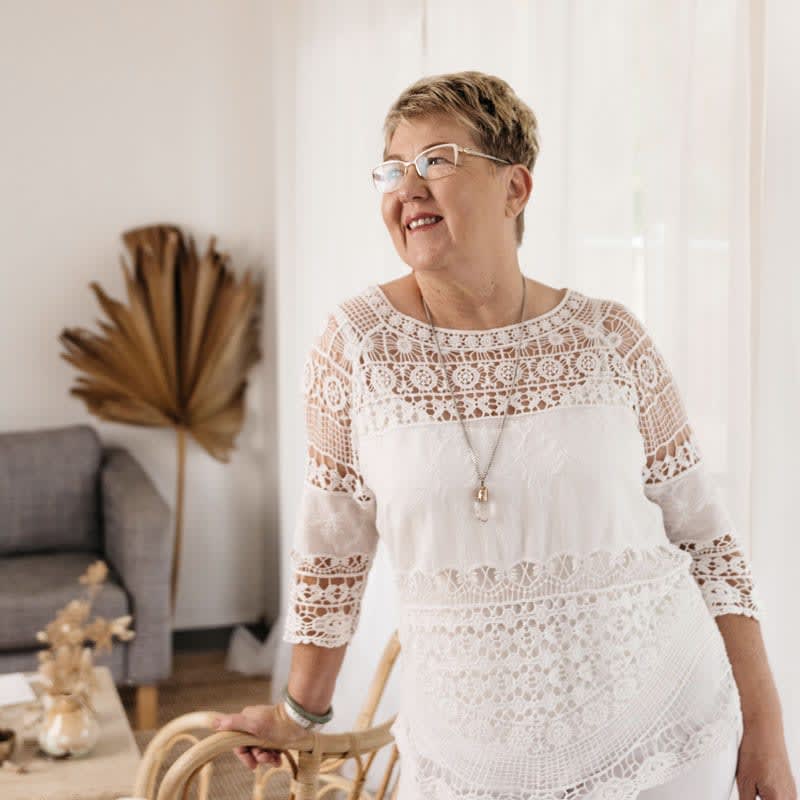 Julie Lewin
MEDICAL INTUITIVE + BUSINESS COACH
Hi, I'm Julie Lewin. I have been a medical intuitive for the past 35 years and an Intuitive Business Coach & Mentor for the past 11 years. Around 5 years ago I had a calling to create a deck of Oracle Cards using my healing modality Areekeera.
I am driven to make a difference. I wanted to reach more people with my wisdom and the cards are a way of reaching more people who could afford it. I channelled the images and the wisdom to create the cards with a different perspective.
I had no idea how to create and publish a deck of cards with a guidebook but with many hours of research, determination and the help of my talented graphic designer extraordinaire daughter Tash, I got there.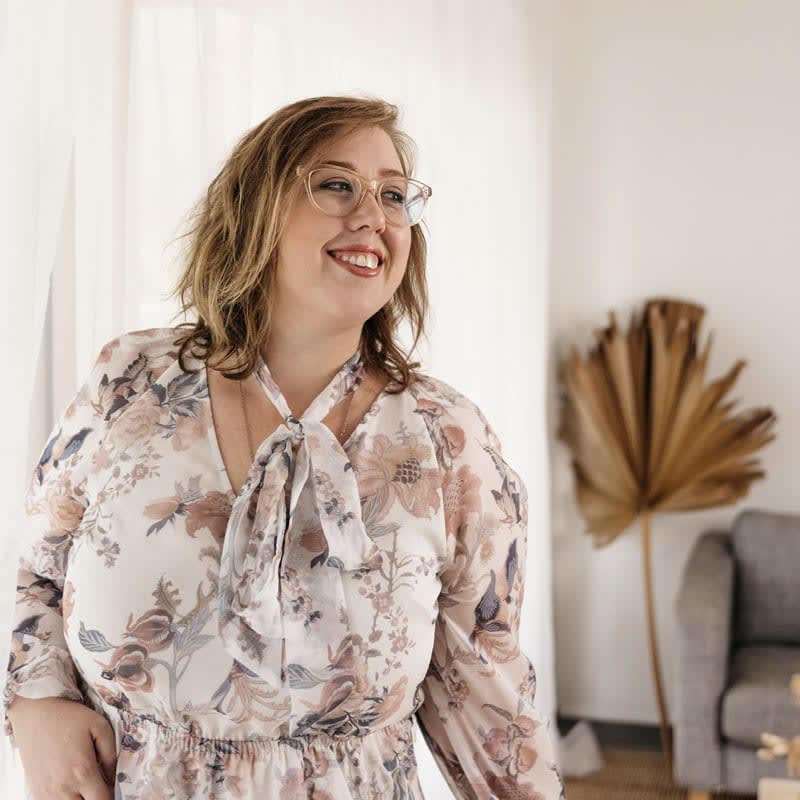 Tash Lewin
INTUITIVE DESIGNER & BRAND STRATEGIST
Hi, I'm Tash. I am a Brand Strategist and Graphic Designer, which I have been doing for the last decade. During this decade, I have done many things related to business, design, branding & marketing and it has all led me back to here. 
I have been a freelance graphic designer & brand strategist, and a University Lecturer teaching graphic design, web design and digital marketing. I have written a Graphic Design diploma, assisted two incredible heart-centred entrepreneurs create their own oracle card decks, run & sold a profitable wedding business, launched a product based business and I have finally come back to teaching & mentoring, which feeds my soul. 
WHAT IF I DON'T HAVE AN IDEA FOR AN ORACLE CARD DECK?
You will have a 90 minute brainstorming session with us, where will be unpack your zone of genius. We are confident that everyone has a unique oracle card deck within them; we help you connect with the muse for your deck and assist you to bring it to the world.
WHAT IF I'M NOT AN EXPERT IN SOMETHING?
There is a difference in being an expert and being an authority. As an authority, you can share your unique wisdom and experience about a topic, niche or industry, that can educate, motivate or inspire those who are on the path you have already tread. You don't have to be an expert to lead.
WHAT IF I DON'T FINISH IN 12 WEEKS?
As long as the program is running , you have unlimited access to learning materials and community. This means you can continue on with your deck and still be part of the community learning. Likewise, if you finish your deck and you want to do another one, you can use the learning materials to begin again. If you require more 1:1 mentoring, then you can purchase one of our Mentoring Packages.
WHAT IF I'M NOT AN ARTIST?
One of the bonuses of joining as a Founder is access to a curated rolodex of artists. These are from a range of styles, aesthetics and mediums, so you will find something that works for your vision. If you need assistance with determining the right art style, you may want to choose the Pay in Full option, and use one of your half-hour 1 on 1 sessions to evaluate these artists with us.
IF EVERYONE CREATES AN ORACLE CARD DECK, WILL THEY WANT MINE?
The thing about people who buy oracle cards, is they tend to be collectors. As long as the style and topics are things they are interested in, they will always have room for more. Everyone has a unique perspective, wisdom or style, being true to you will ensure you attract the community that will love your deck.
WHAT IF I SHARE MY IDEAS, AND SOMEONE COPIES WHAT I AM DOING?
We encourage our students to share their highlights, their wins, their struggles and their challenges, rather than their ideas. Everyone is on the same path, and knowing others are experiencing what you are is where the community supports. You don't have to share any of your ideas, or specific works, to get community assistance. For brainstorming or to bounce your ideas off someone, we provide a 90 minute brainstorming 1 on 1 session with us. All of your communications with us are confidential. You may consider getting an accountability buddy from the community, who is in a different field, if you need further support.
WHAT IF I DON'T HAVE THE MONEY TO WORK WITH PROFESSIONALS?
We provide a Founders Bonus that teaches you how to use Kickstarter to pre-sell your card deck, to pay for your professional services; including final design & typsetting, artwork, photography and printing. You will be shown how to use a limited budget to work with local printers, sample artwork, and digital mock ups, to proceed with crowdfunding on Kickstarter.
WHAT IF I GET STUCK, HAVE BLOCKS OR RESISTANCE?
Throughout the coursework and Live Q & A sessions, we will show techniques to clear blocks and resistance that may show up, so that you can get into flow and re-connect with your Muse.
WHAT IF I DON'T HAVE A BIG AUDIENCE?
Having a large audience isn't key to creating your oracle cards, but having access to a large number of people will be needed to run a successful Kickstarter campaign and to sell your cards. Now this doesn't have to be your own list, there are many ways to get in front of people. You could use collaborations with other business owners or media personalities that have a common audience with you. You could pitch interviews with Blog, Magazines, Podcasts, etc to get the word out. You could run Facebook advertising campaigns. 
There are a number of ways to be seen buy enough people, and regardless of the way, selling is a numbers game and the more people see you and your cards, the greater the chances of success. This is also doesn't have to happen overnight. Once you have your Prototype deck, you could spend a year growing your audience before moving onto the Kickstarter and professionally created deck.  
WHAT IF I AM ALMOST FINISHED MY DECK AND I ONLY NEED HELP WITH PRINTING?
Congratulations, this is a huge deal!!! We are working on a mini-course that is for people like you. It will include
Working with a printer in China
Working with a designer to ensure typesetting is correct for the printer
However, our full course does cover everything you will need to know about this process, and right now you get access to valuable bonuses that will assist with the post-printing period. If you want to finish your project as soon as possible, then this would be the option we would recommend.
DO YOU PRINT MY CARD DECK FOR ME?
We are offering a teaching experience in the form of an online course. We will teach you everything you need to know to print & self-publish your own card decks. If you choose the VIP Experience, this also includes 1 on 1 mentoring with us throughout the program.
This doesn't include us printing your cards. You do however, get direct access to our Printer in China.
If you would prefer to have us act as Publisher (we have our own Publishing House label) and take care of this process for you, this can be negotiated on a case by case basis. Please get in touch if this option appeals to you.
CAN I BOOK IN FOR A SINGLE 1-1 SESSION?
At this time, we don't offer individual 1 on 1 sessions. However, if you pay in full, you receive 2s 30 minute 1 on 1 sessions on top of the initial 90 minute brainstorming session. This may be the best option for you to receive additional support and mentoring.
HOW LONG DO I HAVE ACCESS TO THE PROGRAM FOR?
You have lifetime access to the learning materials. As long as the program is still running live, you can access the online program and community. However, you will only 3 months worth of 1 on 1 sessions. If you wish more 1 on 1 time after this is up, you may purchase one of our Mentoring Packages.
DO YOU HAVE ANY IN PERSON EVENTS?
We currently don't run any in person events, though we are exploring options for this. If you have an event you would like to see us do, please email us about it, we want to know how best to serve you. If you want to see us in person for mentoring, you can choose the Pay in Full option or the VIP package.
WHEN WILL I BE BILLED?
If you choose either of the Pay in Full options, full payment will be immediate. If you choose the payment plan, payments will be deducted from your account 30 days from the date of first payment. The first payment will be immediate.
WHAT FORMS OF PAYMENT DO YOU ACCEPT?
We accept Paypal and Credit Card. If you want to be paid by internet banking, please email us to arrange. Access to the course will be granted once payment has cleared.
WHAT HAPPENS WHEN MY SUBSCRIPTION EXPIRES?
Provided all payments have been received and conduct meets community standards, your access to the course materials remains active indefinitely.
WHAT HAPPENS IF I CAN'T PAY THIS MONTH?
If you are experiencing financial difficulties, please email us to discuss. Course access can be paused until you are able to continue payments. Once payments continue, you will be placed in the next live course round.
HOW SECURE IS MY PAYMENT INFO?
Payments are processed through Paypal and Stripe to ensure all your contact and payment details are kept secure.
WHAT IS YOUR REFUND POLICY?
We follow the ACCC standards for refunds. Unfortunately, we cannot offer a refund if you simply change your mind. If however, you do the work and follow our process, and you still don't feel that it has worked for you, send in the completed work and we will provide a full refund. You will have 30 days to process this refund.
If being unable to afford the payment is your reason for asking for a refund, remember that you can pause your payments. You will lose access to the course & Facebook group during this pause, however, once you are again able make the payments your access will be re-activated. We are small business owners ourselves, and we understand that there can be tight months, so please don't feel ashamed or like you can't ask us for help. Email us to let us know the situation, and will process the pause straightaway. 
With dedication on your part, you will walk away
from the program with. . .
an Oracle Card Deck uniquely channelled and co-created by you and your Muse +
a feeling of accomplishment and authority in your soul work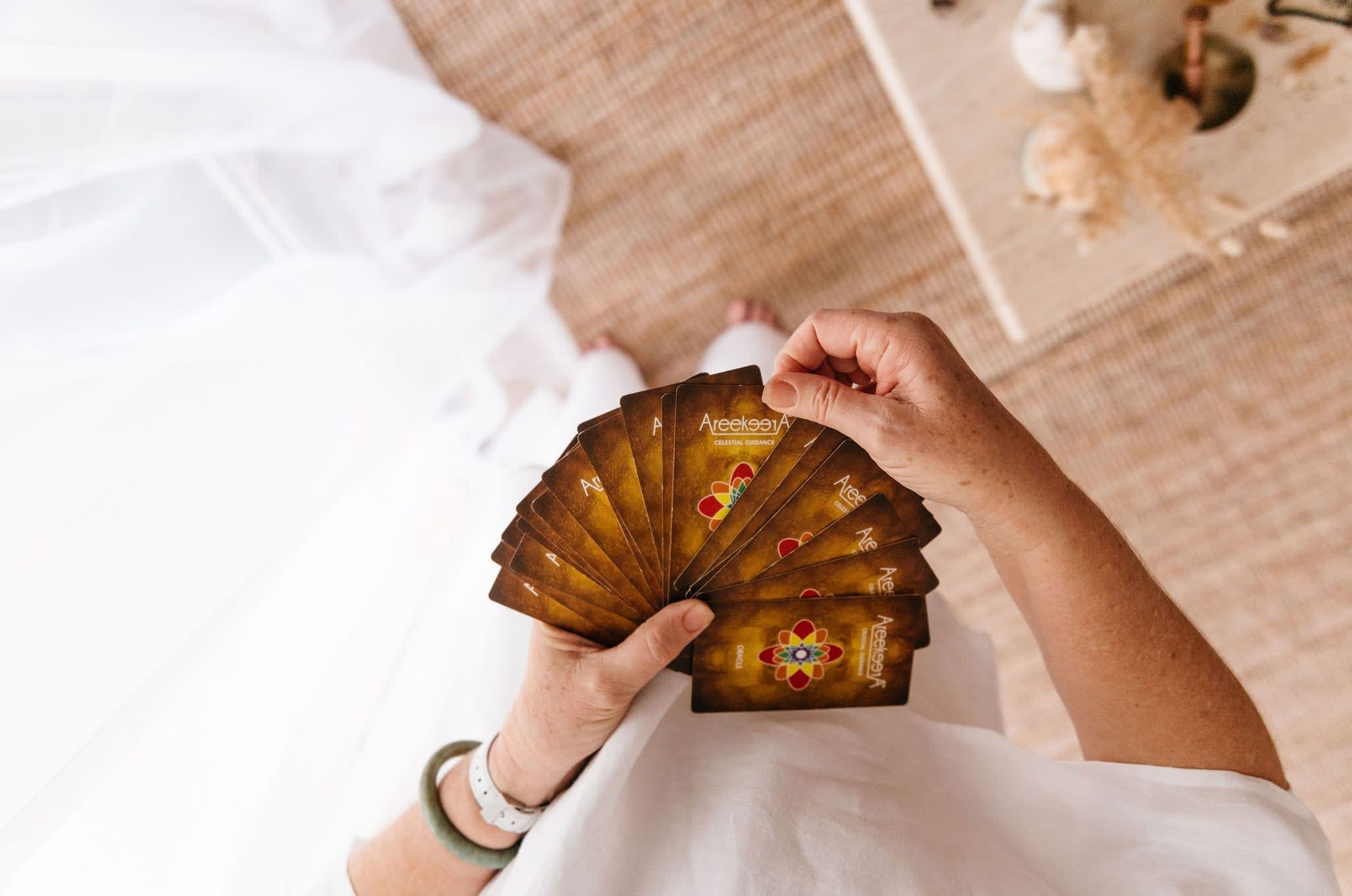 So let us ask you,
are you ready to…

put aside your fear & imposter syndrome and Finally share your wisdom?

follow the steps to finally get your idea out of your head and into the world?

trust your vision, believe in yourself and your message, and get started?
INTRODUCING
Oracle Deck Co-Creator:
Taking you from Idea to Self-Published Oracle Card Deck
Prices in AUD (including GST)
x3 PAYMENTS
Prices in AUD (including GST)
X1 PAYMENT
Online course modules
– Videos + transcripts
– Downloadable Worksheets, Canva templates, Spreadsheets, Cheat-sheets
Private Facebook group
Unlimited access to the course
Access to updated course content
NB You can upgrade to the Group Program at any time.
Done With You
Course + Group Mentoring + 1:1
Online course modules
– Videos + transcripts
– Downloadable Worksheets, Canva templates, Spreadsheets, Cheat-sheets
Private Facebook group
Unlimited access to the course
Access to updated course content
+
LIVE Group Q & A – Total of 8 Sessions (weekly in Zoom)
3x 90 minute 1:1 Co-Creating Calls
We bring our knowledge & wisdom to the table and we help you co-create your cards.
1x Private AreekeerA® Clear the Runway™ Session + access to our Clearing Library
We dig in and uncover what's at the core of any fears, beliefs, wounds or traumas that may be preventing you from sharing your wisdom.
Access to us via FB Messenger
Group Program also includes the following Bonuses:
MASTERCLASS: How to use your cards to increase exposure & engagement
Access to our Rolodex of professional contacts
Introduction and direct access to our Printer in China
Book in a time, if you want to chat about which Plan is the best for you.
We also offer a limited number of DONE FOR YOU packages and these are evaluated on a case by case basis. If you have written a book or course, and you would like us to turn this wisdom into a card deck for you, email us to set up a Discovery Call.
You can learn more about our Terms of Service